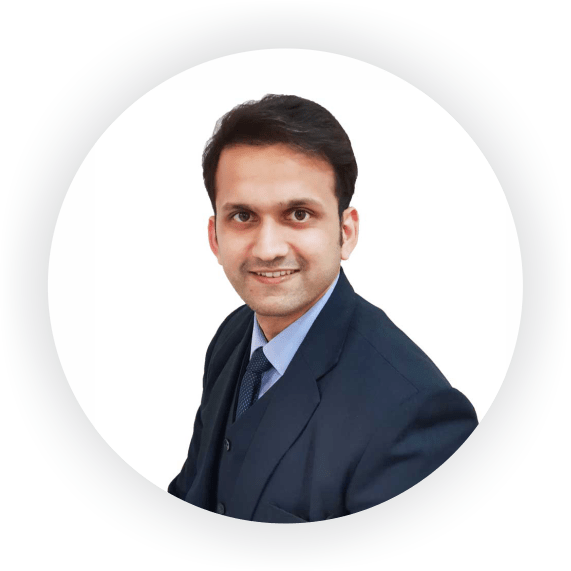 ---
Dr. Apoorva R. Patwardhan
Shoulder Specialist
M.S. (Ortho)(KEM Mumbai)
A.F.A.O.A., Sydney, Australia
REG. No. 2009/04/1557
PROFESSIONAL BACKGROUND
Completed M.S. (Ortho) and M.B.B.S. from the prestigious Seth G.S.M.C. and K.E.M. hospital.
Australian Orthopaedic Association Accredited Fellowship in Shoulder surgery under the aegis of Dr. Herald in Sydney, Australia.
US patent in process for a novel instrumentation in the field of arthroscopic surgery
Designer surgeon for Australian based Implant manufacturing company
CORE COMPETENCE
Arthroscopic Bankart Repair for Instability
Arthroscopic Rotator Cuff Repair
Arthroscopic SLAP repair/ Biceps Tenodesis
Shoulder fracture Reconstruction
Total Shoulder Arthroplasty
Reverse Shoulder Arthroplasty
What makes Dr. Apoorva R. Patwardhan the Best Shoulder Specialist In Pune?
Dr. Apoorva R. Patwardhan, completed both his MBBS and MS Orthopedics from the prestigious Seth GS medical college and KEM Hospital, Mumbai, India While doing his residency he was awarded the B Braun Resident of the year award in the field of Orthopedic surgery. He also had several international publications during his tenure as a Resident. Soon after completing his residency, he was offered Australian Medical Council Accredited fellowship in Shoulder Surgery with Orthoclinic Sydney. Owing to its big sports culture, his experience in Australia taught him a comprehensive approach towards Sports Injuries and its Rehab. During his time in Australia, he was also an integral part of a sports medicine Implant company's research and development team. Soon after his return to India he began practicing his subspeciality of shoulder surgery Apart from practicing Orthopedics, the creative edge in him has always pushed him towards invention of newer instrumentations and techniques in Orthopedics. He has a US registered patent revolutionizing the drilling technique used in ACL reconstruction. With his compassionate attitude and consistently good postoperative results, Dr. Apoorva hopes to provide a comprehensive solution to shoulder problems and is undoubtedly the best shoulder specialist in Pune.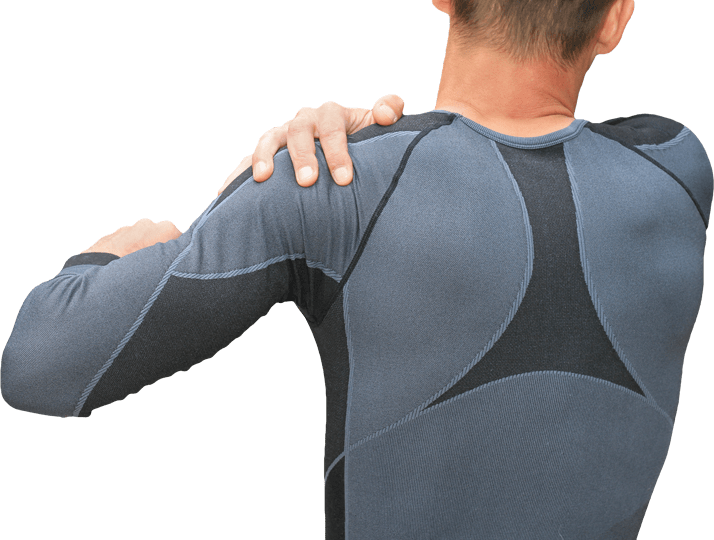 ---
What most people call the shoulder is really several joints that combine with tendons and muscles to allow a wide range of motion in the arm — from scratching your back to throwing the perfect pitch.
Mobility has its price, however. It may lead to increasing problems with instability or impingement of the soft tissue or bony structures in your shoulder, resulting in pain. Therefore, it is important to know your condition and get periodically checked from the best Orthopedic Shoulder Specialist in your town.
What causes shoulder discomfort?
---
A few of the common reasons for shoulder discomfort are mentioned below:
Rotator Cuff Tear : Rotator cuff collectively refers to the group of muscles and tendons that surround the joints in a human's shoulder. Rotator cuff tear refers to a tear in the tissue which connects the muscle to the bone around the shoulder area. It can be damaged by overuse of the muscle or repeated movements involving the shoulder. One of its most prominent symptoms is hearing a crackling sound whenever an individual raises their arm overhead. If such a symptom appears an individual should consider the best shoulder specialist.
Biceps Tendinitis : Another common diagnosis by the best shoulder specialist in Pune is rotator cuff tendinitis. It refers to a condition wherein the tendons of the rotator cuff get inflamed. Its common symptoms include mild ache and stiffness in the shoulder. In the early stage we can recover the shoulder. It gives Relief in 90% of cases.
Dislocated Shoulder : Are you feeling fatigued due to your shoulder? The most common reason is your arm popping out of its socket which results in minimal movement of the arm and chronic pain and fatigue. The best shoulder specialist in Pune finds this another most common cause for clients' discomfort.
A few more secondary reasons for shoulder pain are:
Sports injury
Biceps Tenodesis
Frozen Shoulder
Accident or Any Trauma
What are the symptoms of shoulder pain?
---
There are various causes of shoulder pain which requires a medical diagnosis by a shoulder doctor specialist. The most common symptoms to consult your orthopedic shoulder specialist are mentioned below:
Stiffness of the shoulder
Minimal movement
Weakness in the upper arm
Burning sensations in the arm
In some cases shoulder pain is the sign of a heart attack. In addition to feeling pain, if an individual experiences chest stiffness or trouble breathing then they should immediately seek medical help.
What are the types of Treatment for shoulder pain?
---
Shoulder Specialists approve of home remedies like cold compress ,heat therapy and sleep for mild shoulder pains which do not obstruct your routine. But, if the pain doesn't subside or the issues recur it is highly advised to seek professional guidance. A doctor would certainly diagnose the condition based on a physical exam, X-ray, ultrasound or an MRI scan. After critical examination , it will be followed by choosing a treatment option mentioned below:
Physical Therapy
Nonsteroidal anti-inflammatory drugs (NSAIDs)
Steroid injections
Surgery (like shoulder arthroscopy)
When should one seek medical help for shoulder pain?
---
If a mild pain becomes repetitive or obstructs you from smoothly performing routine activities, it is highly advised to seek medical guidance from an orthopedic shoulder specialist. An individual should never increase medication doses by self-diagnosis and should always refer to a shoulder specialist if they get more concerned about their condition.
Number of Patients Treated
1
Is shoulder surgery painful?
Under the influence of general anesthesia or nerve blocks, surgical pain can be negligible. Post-surgery an individual will experience pain but the postoperative pain and discomfort is common and can be alleviated through medications and sleep.
1
How long is recovery after shoulder surgery?
According to the orthopedic shoulder specialist, after an arthroscopy, the shoulder joint can take up to 4-6 weeks to heal. Although an individual can engage in routine day-to-day activities within a period of days it is recommended to give the operated arm ample rest.
1
Can I walk after shoulder surgery?
Walking can be done immediately after you gain consciousness and feel at rest.
1
Are shoulder surgeries successful?
The paradigm of successful shoulder surgeries is Dr. Apoorva R. Patwardhan, the best shoulder specialist in pune, who has a tag of numerous successful shoulder surgeries and blissful patients to his name.
1
Are shoulder surgeries successful?
The paradigm of successful shoulder surgeries is Dr. Apoorva R. Patwardhan, the best shoulder specialist in pune, who has a tag of numerous successful shoulder surgeries and blissful patients to his name.
1
How long does shoulder surgery take?
The operative part of a shoulder surgery takes 2-2.5 hours. Pre and postoperative care require an additional 2-4 hours.
1
What is the most common shoulder surgery?
The most common shoulder surgeries include rotator cuff repair and arthroscopic Bankart Repair. Both these surgical treatments are offered by Dr. Apoorva R Partwardhan - leading shoulder specialist in Pune. Arthroscopic Slap repair, biceps tenodesis & Acromioplasty , Manipulation under general Anesthesia.
1
How do I know if my shoulder needs surgery?
Increased discomfort and immobility of the arm require urgent medical diagnosis and your orthopedic shoulder specialist will assist you in making the right decision.
GP 66, Bharat Ratna Rajiv Gandhi Marg, MIDC, Chinchwad, Pune, Maharashtra 411019
Timing
Monday to Saturday (except Wednesday)
10am to 1pm & 6pm to 9pm
Tel: +91-8554099996 
778, Kamala Nehru Park Rd, opposite Kamala Nehru Park, Shivajinagar, Pune, Maharashtra 411004

Timing
Every Wednesday 
3pm to 5pm
Tel: 02041096666
11/12 Thube Park, 16, 16, Shivajinagar, Pune, Maharashtra 411005
Timing
Every Friday 
4pm to 6 pm
Tel: +91-7887882744
My mom's procedure of MUGA (left shoulder)was done on 13th Oct 2022 by Dr Apoorva.His diagnosis and treatment was very accurate.The procedure and post procedure physiotherapy was all taken care well. Would highly recommend him and the physio in Dhanashree hospital.
Dr.Dayashankar Vaidya
2022-10-19
Sanjay Sarbhukan
2022-10-19
20/04/2022 surgery Surgery name-pain in right knee ACL Dr.Apoorva Pardarshan Physothapy will be start
Nandkishor Kabukade
2022-10-19
I m govt servent. Suffering from recurrent Shoulder dislocation since 3 years. Dr. Pathak recommended me Dr. Apoorva Patwardhan for consultation. Bankart repair Shoulder surgery has been done on 28July 2022. Now movements of my shoulder are progressing. Overall experience with Dr. In particular thank u so much for your kind and thoughtful concern in regard to my health and providing me with excellent medical and physical care. I am most grateful for your kindness.
I having shoulder pain , Dr. Apoorva sir gave me injection in shoulder so now I feeling better. Thank you!
Kundlik Navghare
2022-10-13
Very nice triteament ,my surgery neck 03/11/2021 left prox tibia and good Dr apporva patwardhan.
Nilesh Andhare
2022-10-12
Hi.. I am Nilesh from Pune. I would like to share an experience. My ACL reconstruction surgery done on 13th August. Dr. Apoorva sir did my Surgery & result is very good. Hospital facility was very good. Staff's are very helpful. Right now I am feeling better much & all credit goes to Dr Apoorva sir & team.
Santoshkumar Phurde
2022-10-12
My mother was operated on 24 may 2019 for right leg fracture right tcn femur Dr Apoorva Patwardhan surgery is successful Phesiotheripy recovery with in 15 days Dhanashree hospital is the best hospital in Pimpri Chinchwad. Dr Apoorva Patwardhan best in joint surgery. Thank you so much for my mother recover early .
Vishwas Kakade
2022-10-12
my wife Pramila Kakade was operated on14-2-2022 for right shoulder full thickness rotator cuff tear with LHB subluxation with subcromial spur / herpes zoster rt. Upper limb. After that physiotherapist was taking regular exercise. After three months there is good improvemen. Hand movement is satisfactory.
Pramod Chavare
2022-10-12
I had gone through the surgery of my left hand elbow surgery and radail head was removed. My experience is Dr Aporva is one of the best. And I got total recovery. Operation was done on 20th March 2022. Dhanywad Dr Aporva Sir.And also physiotherapy was done in Dhanshree Hospital.